History, geography and social sciences - all of these are such fun subjects with SO many options to choose from. Learning about our past, our government, our world and cultures is foundational for all children and adults. Whether you are studying ancient, medieval or modern history - there are always lots of opportunities for multisensory education. Click on the curriculum title to learn more.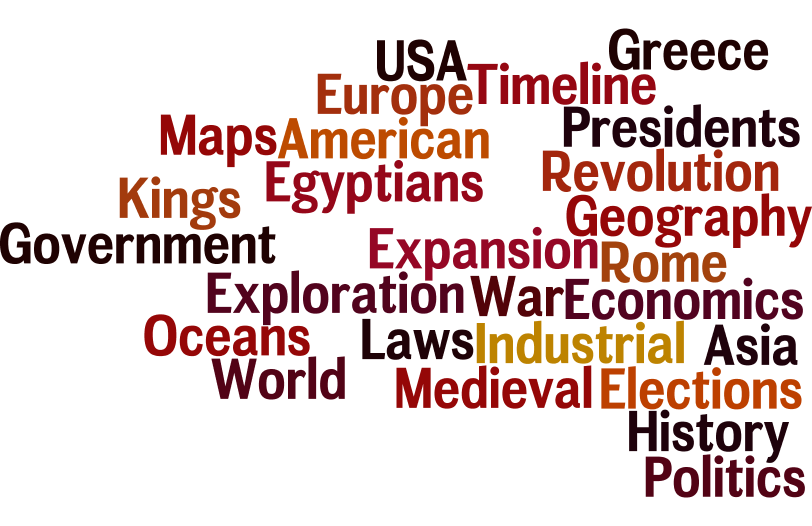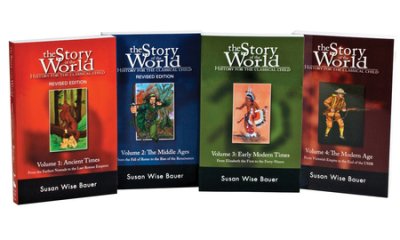 The Story of the World - Created to be a spine to build multisensory acctivities around. The books can be used at read alouds for younger children. Activity books, test booklets and audios help to create optimal learning opportunities for multiple learning styles.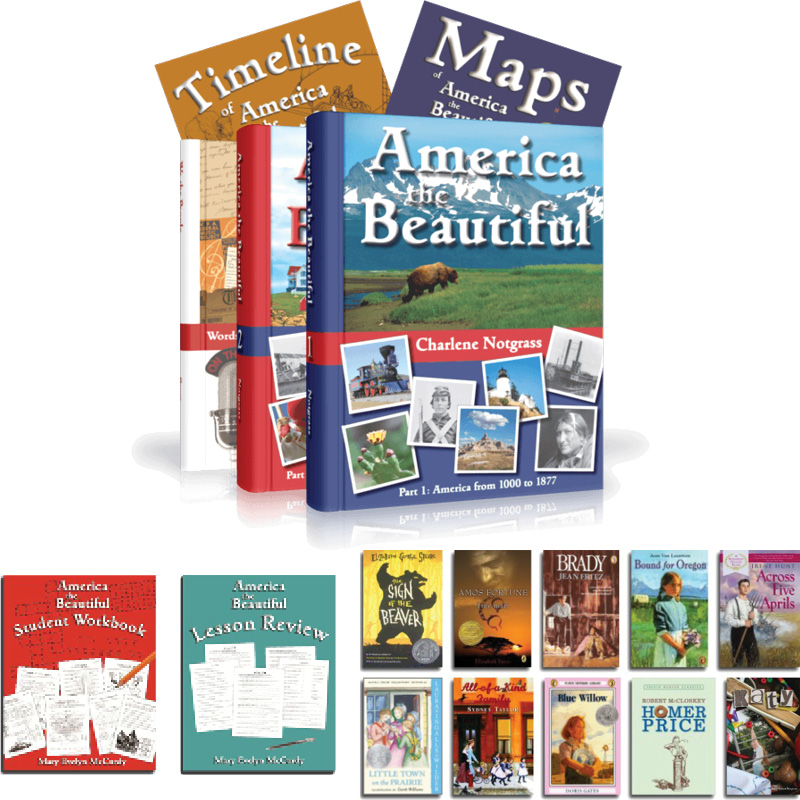 Notgrass - History, Government, Economics - We discovered this curriculum two years ago and have LOVED it! The younger versions include From Adam to US, America the Beautiful, Uncle Sam and You. These three, full year, units are suggested for 5th-8th grade, with varied levels of work for the differing ages. Depending on the units, there are timelines, map work, review questions, handson projects and more. Additionally, each unit also has a reading list with excellent quality books that correlate to the subject matter in the history text. Their high school series includes American History, World History, Government and Economics. Both the American and World history courses may count as three high school credits, English/Literature, History and Bible. As with any multi-subject curriculum, take what works for you and leave the rest behind.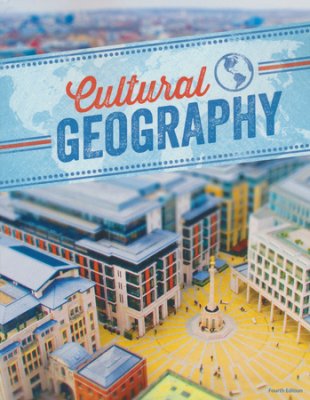 Cultural Geography - Product Description from the author - "Your students will embark on a "grand tour" without ever leaving home with BJU Press' 9th grade Cultural Geography textbook. Each unit opens with a biblical link and short introductory essay. Chapters include various fact boxes; bolded important terms; "Let's Go Exploring" map skill exercises; "Earth Matters" boxes on the challenges of fulfilling the Dominion Mandate; notes on cultural information; section quizzes; chapter reviews; and more. Full color pages are filled with photographs and illustrations, providing a unique visualization of the vast span of cultures and countries across our globe. This new edition features a new opening chapter and is filled with photographs, charts, maps, and first-person accounts that make this "virtual world tour" an exciting and stimulating exploration of world geography and culture. 634 pages, softcover with index, glossary, and maps. 4th Edition" I use when my kids each reach 10th grade - I really love it.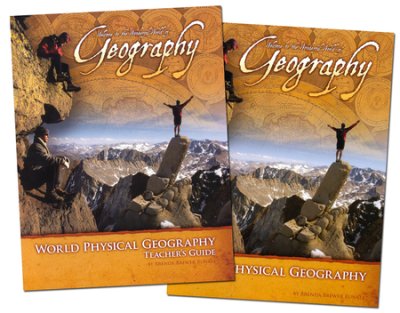 World Physical Geography - Product Description from the author -
"Welcome to the Wonderful World of Geography: World Physical Geography" will bring you to space and back down to earth! Beginning with our planet and its place in the solar system, students will learn about landforms, lakes, maps, climate, time-zones, minerals, mountains, volcanoes, biomes, erosion, and other aspects of physical life on earth. Full-color lessons include definitions and fun facts in the sidebar; goals are stated up front, illustrations or photographs help shed light on important concepts; hands-on activities are fun and reinforce the main point; new words are bolded within the lesson; and review questions & vocabulary, along with any Latin or Greek roots, complete the chapter. Student Book is 288 pages, softcover. The included teacher's guide includes chapter review questions and answers, chapter tests, and the answers for the chapter tests. Teacher's Guide is 135 pages, softcover." - This is something some of our kids will be doing in 2017/2018. Looking forward to trying it.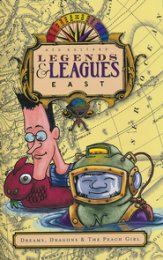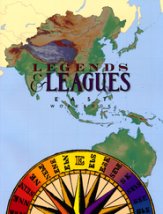 Legends and Leagues - This is a super fun geography curriculum that teaches geography from a storybook and a workbook. The workbooks include several multisensory activities. Suggested for K-4th grade. However, if doing several books in a single year - this series is appropriate for older elementary and struggling middle school.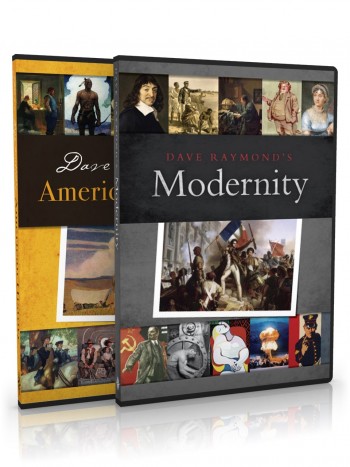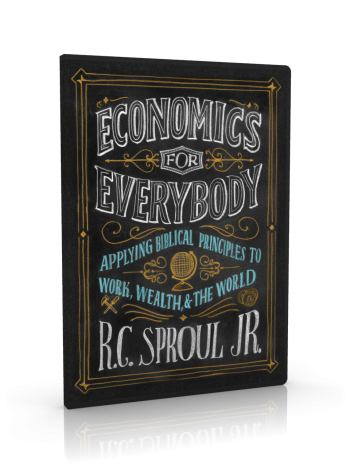 Compass Classroom - History and Economics - Modern History and American History - each count as 1 high school credit - both available via download, streaming or DVD. Multisensory curriculum includes reading, DVD's, audios and hands on projects. From the author - "History is best understood through the dual lenses of dramatic story and godly wisdom. Veteran history teacher Dave Raymond gives a comprehensive history of the United States by applying a Christian worldview to the characters, events, theology, literature, art, and religious beliefs of the nation. It is an engaging class for Middle School and High School students. American History is a one-year class that consists of: 26 lessons (5 videos per lesson, 10-15 minutes each), 4 projects, Student Reader, 372p (PDF, EPUB, & MOBI), Teacher's Guide with Scope & Sequence (PDF), Weekly Exams and Year-long Portfolio. Appropriate for middle school and high school
Economics - From the author - An insightful and entertaining exploration of the principles, practices, and consequences of economics. Thoroughly unconventional, it links entrepreneurship with lemonade, cartoons with markets, and Charlie Chaplin with supply and demand. It's funny, clever, profound and instructive all in one place. This is appropriate for high school and counts as 1/2 a high school credit. We will be using this in the 2017/2018 year - looking forward to it!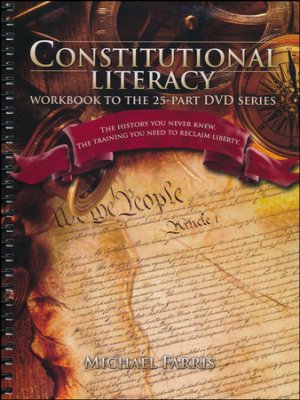 Apologia - Government - From the author - "Join constitutional expert Michael Farris as he walks your family through the history, theory, and application of the Constitution and what it means for the future of American self-government. Prepare your students to begin their voting careers as informed citizens well versed in the content and meaning of the United States Constitution. This 25-part lecture series is engaging and approachable, combining high quality video and music with hundreds of beautiful photographs, timelines, and special effects. The course features over 500 minutes of engaging video instruction by Farris, who has argued cases before the United States Supreme Court." We paired this with Notgrass Government and it was an excellent match. This is a high school course.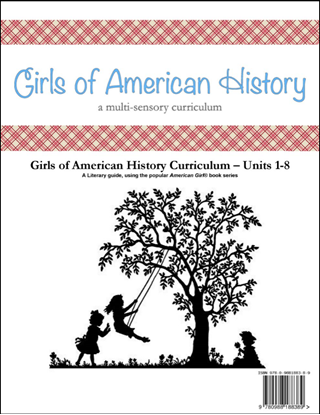 Girls of American History - Finding a history curriculum that fits the needs and learning styles of different members of your family can be a challenge. Girls of American History is a multi-sensory curriculum that follows a pattern of "Read it, Hear it, See it, Write it, and Do it". This is a hands-on curriculum that uses the American Girl book series, and allows you to choose the best activities for each of your children. These activites are great ways to expose your children to new skills and hobbies. This curriculum is appropriate and well liked by both girls and boys; with strong male and female characters in each book. The entire family can get involved in various games, meals, crafts and field trips, creating memories while learning foundational elements from our nation's history. Appropriate for 2nd-6th grade.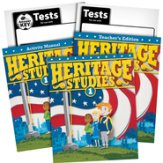 BJU Heritage Studies - From the author - Gain a thorough understanding of American history with Heritage Studies for Grade 1. BJU Heritage Studies 1: The New World examines the events from pre-1000 to 1682, covering Columbus, Plymouth, trading, Native Americans and other colonial events through the lens of God's redemptive plan. Incorporating geography, American history, government, economics, world history, and culture in the student text, students will receive a foundation for later social studies. Illustrations and photographs provide visual interest and additional clarification when highlighting historical events. Levels 1st-12th grades.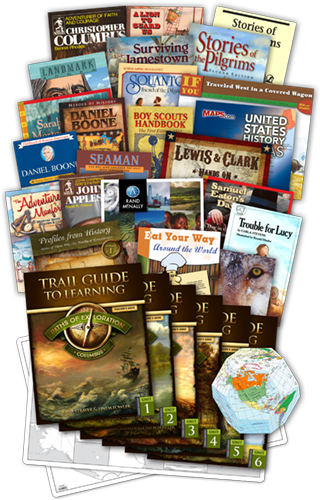 Paths of Exploration - The first in a series of four year long units. Paths of Exploration is the first step in the Trail Guide to Learning series. Learn about the character and experiences of explorers who shaped us as a nation with their vision, determination, bravery, and sacrifice. What does it take to be an explorer? The focus here is on the type of thinking, leadership, and skills that were needed to open up the way for others to follow. The six units in Exploration will take you from the discovery of the New World by Christopher Columbus all the way across America with the westward expansion. Primary science focus involves acquiring the basic skills of observation and recording (both drawing and writing), beginning life science through studying the animals and plant life of explored areas, including habitats and the relationship of these factors to the explorers. Activities in Exploration such as learning directional terms, tracking, and using semaphore code help students understand the skills essential to an explorer's success. Art lessons, craft projects, and cultural cooking, also enhance the learning process. While specifically designed for third through fifth graders, this book can easily be adapted for second and sixth graders as well. Appropriate for K-6 with a middle school supplement available. I love the idea of this and I know it works really well for some people.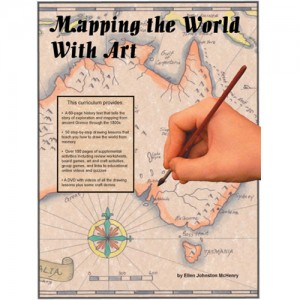 Mapping the World with Art - From the author -
Target age group: 11-16 (history text and drawing lessons are appropriate for over 16, or even adult learners)
Structure of curriculum: This curriculum is in 3 parts:
1) Part 1 contains 30 short history lessons. Each lesson is one double-sided page. The writing is straightforward and easy to understand and is accessible to younger students, but it does not have a patronizing "written for kids" tone, and thus is appropriate reading for older students as well. The drawing lessons and activities are based on the themes of the history lessons. The lessons start with the beginnings of cartography in ancient Greece, and end with the official discovery of Antarctica in the 1800s.
2) Part 2 contains the drawing lessons. Each drawing lesson has step-by-step pictures that guide the student as they draw an area of the world from scratch (starting with nothing but a blank piece of paper). This method of learning is absolutely ideal for kinetic learners, but I have found it extremely effective for all types of learners. (I found it so effective that after writing "Mapping the World" I now use at least one "draw-from-scratch" activity in every subject I teach.) The drawing lessons progress in such a way that later drawings incorporate earlier ones. For example, in one of the first lessons you learn to draw the Nile River. Later, when you draw Africa, you already know how to draw the Nile. The drawing lessons tend to stay away from political boundaries, although some could not be avoided (France and Spain, for example).
3) Part 3 contains extra activities and worksheets that go with the history lessons and/or the drawing lessons. Activities include extra worksheets for practicing what was learned in the drawing lessons, group games, board games, crafts such as making simple navigational instruments, or art projects (about maps) using paint, crayons or colored pencils. There are also many supplemental videos suggested, all of which can be accessed for free via the Internet. The videos are mostly documentaries about the navigators who sailed around the world, or brief video visits to the places the students have drawn.
We will be using this in 2017/2018 along with World Physical Geography. My "arty" kids are very excited!
Mapping the World by Heart - From the author - Designed for grades 5-12, Mapping the World by Heart includes a set of maps and a comprehensive teacher's guide that makes it easy to integrate lessons and activities into any class's existing curriculum. Combining memorization with the real use of knowledge, practice, mnemonics, large and small group activities, and games, Mapping the World by Heart inspires students to study – and love – geography.
Teaches students to draw – entirely from memory – detailed world maps including the names, borders, mountain ranges, rivers, and major cities of more than 190 countries.
Gets students excited about geography and encourages them to think globally.
Promotes positive student interactions and collaboration, both in small group work and as a class.
Provides teachers with flexible lessons they can easily integrate into their existing curriculum.
Gives students a constructive goal to work towards all year long.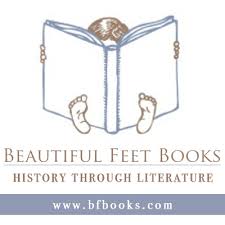 Beautiful Feet - With levels kindergarten through high school, this is a very comfortable and laid back approach to learning history. We used this when the kids were little and LOVED it. Read alouds, questions and discussion, audios. This is an excellent program. They also have a Civics (government) and Economics curriculum for high schoolers.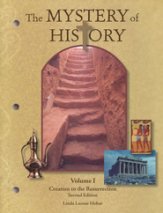 Mystery of History - From the author - "In The Mystery of History, I have retold major stories from the Bible in the order that they happened alongside significant world history events and figures. As an example, Bible characters and world history figures living just decades apart include: Joshua and King Tut; Daniel and Aesop; Ezekiel and Buddha; Nehemiah and Socrates; and Cleopatra and Herod the Great. Imagine lining up such amazing figures on one master timeline! Imagine learning their stories back to back in the order they happened! For most of us, it's an illuminating experience." This is a multisensory curriculum with audio, mapping, timeline, reading and much more. This curriculum works in cycles and is appropriate for K-12th grade.
Sonlight - History - Sonlight is a leader in multisubject units. Sonlight's history combines Bible, History and Literature into one curriculum, similar to Notgrass. The book choices are excellent. Appropriate for ages Pre-K through 12th grade.
Ancient Civilizations and the Bible - An excellent choice that gives several options of projects for children with various learning styles. Appropriate for grades 5-12. This is certainly muiltisensory - audios, reading, mapping and hands on projects.